M L D & Massage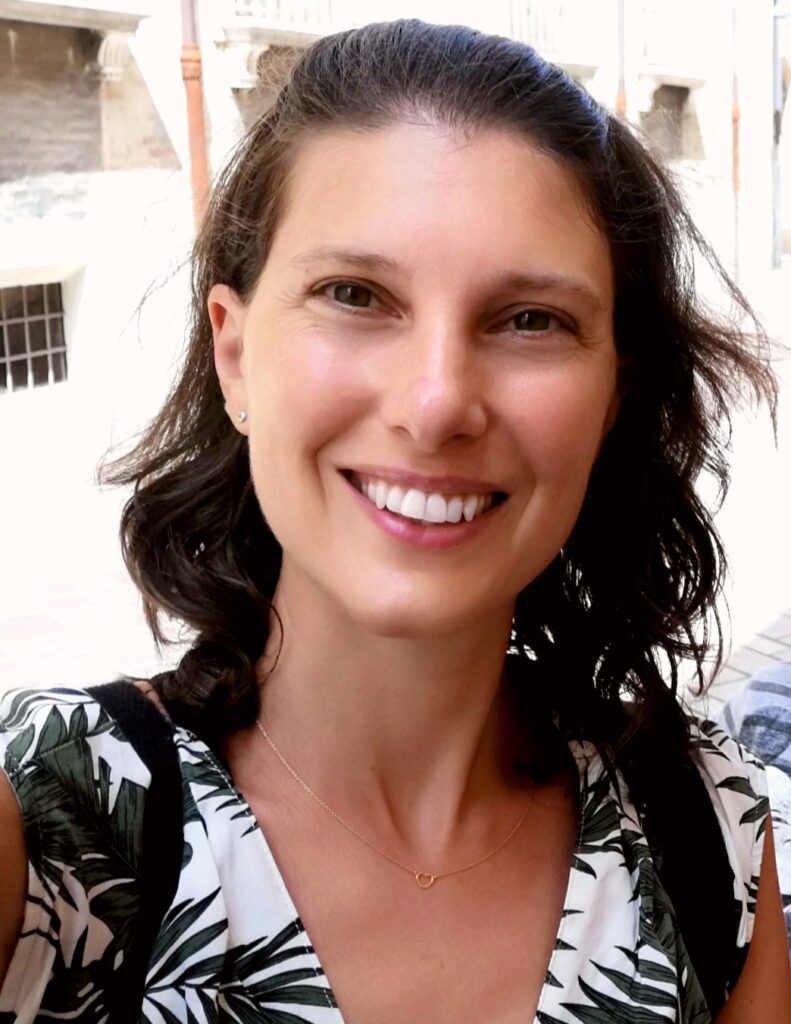 To book an appointment call:
Daniela 0864554551 or daniela.palazzi.therapist@gmail.com
Manual Lymphatic Drainage:
Please contact directly for pricing
Time can be tailored to suit needs of individual
Manual Lymphatic Drainage (following Dr Vodder Method)
It is a gentle, relaxing and rhythmic massage that helps to reduce water retention filter excess fluid from the lymph nodes.
Why is it so important? The lymphatic system plays a vital role in the body by regulating the immune system. Stress and deficient immune systems can make people susceptible to disease and infections.
The major benefits are swelling reabsorption, increased immune system, tissue regeneration with increment elasticity of the skin.
What could be useful for? Reducing swelling for oedema (water retention, sport injuries, post-surgery), helping to boost the immune system, sinusitis, cellulite, Fibromyalgia (reduce the pain), diabetes, arthritic swelling and helping scar healing.
Treatments:
Facial treatment (Chronic sinusitis, puffy eyes and face, nasal congestion, post plastic surgery, bruising…)
Legs treatment (Maternity swelling, Cellulite, swollen knees and ankles, post-surgery swelling such as fractures, hip and knee replacement…)
Abdomen/Back/Nape/Neck treatment (post-surgery as liposuction, tummy tuck, headache…)
General treatment (tiredness, fatigue, stress…)
Boost your immune system! If you're not feel well or so tired that everything looks so challenging, call and try one session, you will come out regenerated.
Post-Natal Recovery
Postnatal recovery is not always easy, and it would be helpful for all women to have professional support. If you have any concerns about pelvic floor, diastasis recti or your posture (back pain, hips problem, etc…), you can book an individual session to check your condition, to have an assessment and a personal plan for the best recovery.
Global Postural Re-education
The GPR involves a series of active gentle movements and postures aimed at realigning joints, stretching shortened muscles and enhancing the contraction of antagonist muscles, thus avoiding postural asymmetry. These therapeutic postures imply an active involvement of the patient. The GPR method includes eight therapeutic postures, lying, sitting or standing, to be held for 15/20 minutes each. Postures can be variously combined during sessions. Postures are chosen based on some parameters, such as amount of pain, load capacity and age of the patient, and muscle chains to be stretched. These postures are applied slowly, delicately and progressively while always insisting on exhaling. It helps to regain strength, length and flexibility to the muscles responsible for the problem. GPR prevents long term articular deterioration by helping to heal and eliminating pain and its symptoms in its entirety.
Manual Lymphatic Drainage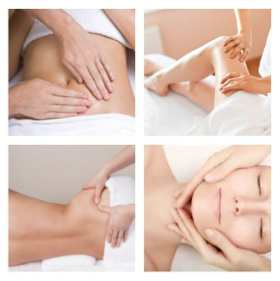 This gentle movement stimulates the lymphatic vessels which carries substances vital to the defences of the body and removes waste products.
It's possible to treat different area of the body as legs, arms, back, shoulders, neck and face.
The major benefits are swelling reabsorption, increased immune system, tissue regeneration with increment elasticity of the skin and it could help again sinusitis, cellulite and Fibromyalgia.
The Benefits of MLD
unblock and boost the immune system
control of primary and secondary Lymphoedema and assists in conditions arising from venous insufficiency
Chronic sinusitis, chest infection, nasal congestion,
Arthritic swelling, pain and inflammation
Relieves fluid congestion as Puffy eyes and face, Swollen knees and ankles, Maternity swelling,
Aids Cellulite reduction (see heading for Cellulite and MLD)
Relieves the stress by calming down the Central Nervous System
Sports Massage: 45 minutes- €50, 60 minutes- €65
Swedish Massage: 60 minutes- €65, 90 minutes- €85
Back/Neck/Shoulder Massage: 60 minutes- €65, 90 minutes- €85
Postnatal recovery: one hour- €65
Global Postural Re-education: 60 minutes- €65, 90 minutes- €85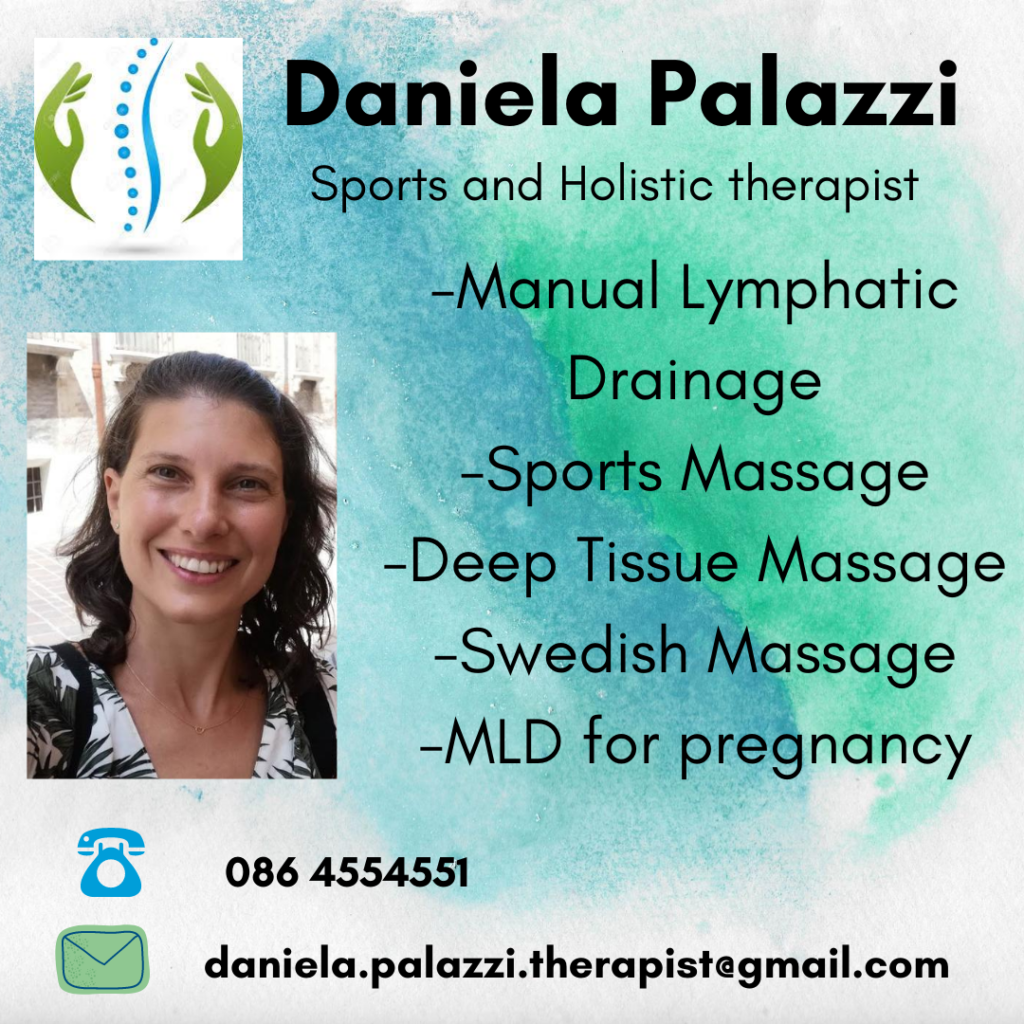 About Daniela:
Daniela is an Italian physiotherapist, moved to Ireland in 2013.
She has always been passionate about the health and care of people, focusing to listen their needs and help them to solve their problems.
She holds two bachelor's Degree (Physiotherapy and Sports Science in Italy), she's specialized in Global Postural Re-education (2012) and she has more than 5 years of experience in Orthopaedic and Neurological Rehabilitation.
She has always been interested in Massage Therapy and how to help effectively through the hands to reduce pain and stress and how body and mind are so closely linked.
For this reason, she has specialized also in Manual Lymphatic Drainage (Cork2018) in the International Dr Vodder School and this method is an advanced discipline in the field of medical massage, widely used to boost the immune system and support in different pathologies.
She is empathetic and diligent, and she likes to continue her training and keep always up to date with her techniques. She has a wide experience as an Instructor of Gentle Gymnastic and Postural Gymnastic with older adults for more than 10 years.
She is a member of IMTA (Irish Massage Therapist Association) and so the cost of some treatments can be claimed back from Irish Life Health